Flatfoot Dancing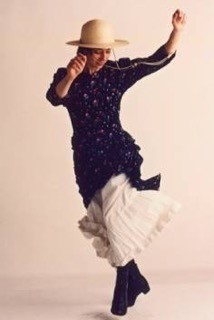 Flatfoot and Buck Dancing (related to clogging) are the traditional, solo, percussive dance forms that go along with Southern Appalachian Mountain Music – fiddles, banjos, guitars, mandolins. The dancer's feet are a rhythm instrument, keeping the downbeat for the musicians with much room for personal expression and style.
Ruth was introduced to the music and dancing of the southern mountains in 1969, at Don West's local festival in Pipestem, West Virginia. It went straight to her heart and never let go!
She has taught workshops, danced with old-time Appalachian string bands, busked (street performed) in various cities in at least 6 states. She won the National Championship in Senior Buck Dance in 2013 and 2014 at Uncle Dave Macon Days Festival in Murfreesboro, TN, and in 2019 won Grand Champion at Appalachian String Band Festival – known as Clifftop, the largest exclusively Old Time festival in the U.S. (the first place winners of all age groups compete for Grand Champion).
Currently, Ruth is the percussion section of The Honeysuckle Possums, an all-female string band playing original and traditional music.
Her instructional DVD has sold out, but zoom lessons work well!  Please contact for details.
For performance dates, please go to honeysucklepossums.com.
Ruth with dancers Thomas Maupin and Hillary Klug, music by Austin and Courtney Derryberry and Daniel Rothwell.